Historic Society Monument 
The WSHS has funded a sculpture created by artist Austin Weishel. The artist describes this work as an "Over Life-Size monument for the town of Windsor, CO to signify how the town became what it is today from the 1900's."
See the artist's other works here
Images of America: Windsor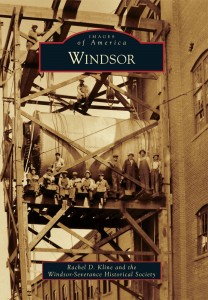 The WSHS has recently published a photographic history of Windsor and Severance as part of the Images of America series from Arcadia Publishing. The book includes hundreds of historic photographs from numerous private and municipal collections as well as local history.
Windsor is now available at local retailers, national booksellers, and through the Historical Society. Take a stroll down memory lane with pictures of Mr. McCall, Mr. Tozer, Frazier's Drug Store, and the Star Lite Café to name only a few and recall the "good 'ol days" of Windsor.
Purchase the book here.
See other books in the Images of America series at Arcadia Publishing.
WSHS Oral History Series

The people of Windsor and Severance make up the mainstay of our history and enrich our heritage. To preserve their stories, the WSHS has sat down with several local individuals and families to record their personal stories about life and times in Windsor and Severance.
The WSHS has made over 25 recordings as part of the series and continues to make more. Find these recordings at the Windsor-Severance Library:
Gene Morey
Helen C. Casten
Paul Fritzler
Jim Dudley
Emma Weinmeister
Maria Dressel
Erna Brunner
Mary Alice and Virginia Lindblad
Alma (Brunner) Gerbitz
Leona Bernhardt
Harold Stoll
Wayne Miller
Karl Erbse
George Tozer
Clara Rutz
Jim Schlotthauer
Grandmothers
Pickle Docks
Macy's Windsor Beacon
School Classes in the 1930s
School Classes in the 1940s
School Classes in the 1950s
School Classes in the 1960s
School Classes in the 1970s
School Classes in the 1980s
Lind Brothers
Lucy Apadaca
Bret Mai
Allen Salzmann
Russ Schnell
Louanne Timm